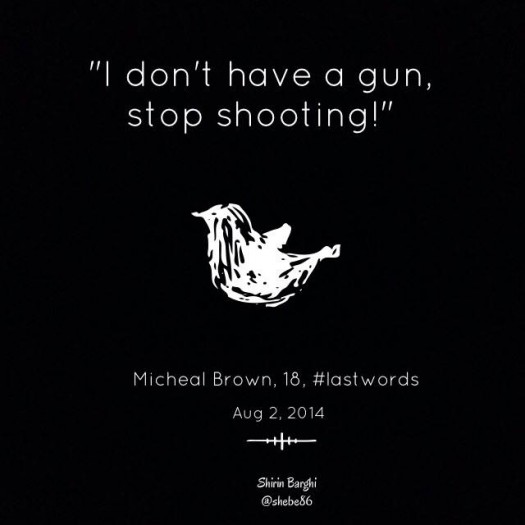 This is gonna be a long one. And I'm saving some for next week. Apologies. Not only did I miss last week, but I also did a lot of catching up on reading. And, of course, I have been obsessively following Ferguson.
I know none of you have missed what has been going on in Ferguson. But I will drop a few of the more important links:
Ferguson isn't the only place people have had enough. In the Mandalay Region of Burma/Myanmar, farmers had their land taken away by the military. They protested by, for example, plowing the fields that had been stolen from them. The cops came and started shooting. The protesters, along with local villagers who ran out to help, "detained 37 police personnel". The rest ran away. Nicely done, farmers.
While we wait to hear whether or not the cop will be charged in Ferguson, we know that Shaneen Allen is going to be prosecuted for gun possession.
San Bernardino PD tased a man to death last week. Maybe they were trying to one up the South Dakota PD who tased an 8 year old?
In New Orleans, a man was shot in the head and the PD didn't report it for two days. And in LA, they refused to release the autopsy of the man they shot.
If You Were Gunned Down By Police, What Photo Would the MSM Use to Portray You?

You have probably seen the picture going around of all the people killed by police. But maybe you missed this series of Last Words: A Visual Tribute to Men Killed By Police.

Nobody knows how many people cops murder every year.
I don't know if this new police accountability app will do any good. But these teens are clearly awesome.
Prisoners in PA have been protesting and need some support.
We don't hear enough of the stories from people in prison, especially not women in prison. Which is why this account from a woman at Virginia Correctional is so important. And why people should support films like this one about Marcia Powell, a sex worker who died in prison.
It turns out that Telling White People the Criminal Justice System is Racist Makes them Like it More. Awesome. 
In Memphis, a teacher punched a five-year-old girl in the face.
Good news is, LA says they are trying to shut down the school to prison pipeline. Bad news is, they are arming Compton school PD with AR-15s. What could go wrong?
Mothers are still be arrested for letting their kids play in parks and for swearing in front of them. (Newsflash: If you put your kid in a car, you are risking their life far more than any of this bullshit.)
Baltimore Jimmy Johns workers are now IWW.
Also in Baltimore, an out of control judge ordered a pro se defendant to be tased in court.
One could argue that a dildo is even more dehumanizing than this very life-like Japanese sex doll. But as a human and a sapiosexual, I'm finding the claims about it being a legit girlfriend replacement a little incomprehensible and (frankly) sad.
They better send a whole crap ton of those dolls to Brazil considering that women need virginity tests before they can get a job.
Sooo. That whole Affordable Care Act thing. How is it that hospital CEOs are seeing massive pay increases? Almost as big as the insurance premium increases we have been getting.  Hmmmmmm.
Finally, a Honduras morgue director is reporting that at least 5 of the children deported back to Honduras are now dead.